So, Is VoIP Really Cheaper?
Consider cost, ease of use, reliability of the provider, customer support, quality, overall features and benefits.
TL;DR
Depending on the plan you choose for your business, VoIP systems cost between $20 and $99 per month. Virtually all VoIP providers offer a trial period to allow you to explore the benefits before making a commitment. Consider cost, ease of use, reliability of the provider, customer support quality, and overall benefits before making your final decision.
Okay, let's get down to the numbers.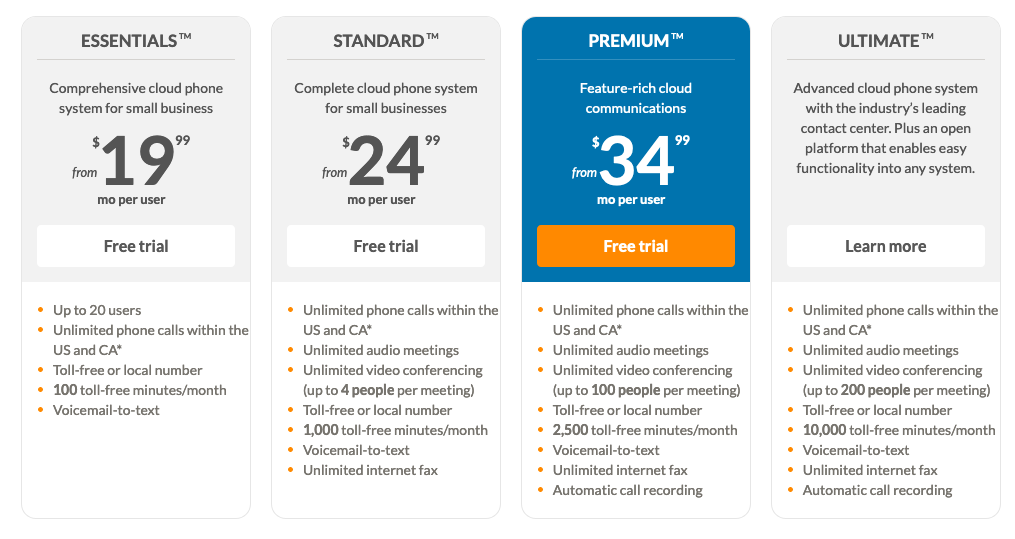 Everyone wants to know how much it really costs. There are a variety of different providers out there so the cost actually varies a lot. Some providers cater to small companies, mobile companies, medium-sized companies, among other types We are going to focus on some of the major VoIP providers of today that are really attractive to businesses: RingCentral, Nextiva, and Vonage.
Ring Central
RingCentral is one of the most widely used and lauded VoIP providers, which is why they're headlining our list. Specializing in easy-to-use cloud communication and collaboration solutions, RingCentral has managed to win over hundreds of thousands of companies, small and large. Their success stems from their affordable, flexible pricing plans and superb VoIP packages. You can choose to pay monthly or annually, whichever works best for you.

Currently, there are four packages that RingCentral offers: the Essentials, Standard, Premium, and Ultimate plans. All four allow unlimited phone calls within the US and CA and unlimited business SMS and MMS. The current prices are $19.99 a month per user for Essentials, $24.99 for Standard, $34.99 for Premium, and $49.99 for Ultimate.
More features are offered as you advance towards the more expensive, inclusive packages. For example, at $19.99 monthly per user, the Essentials plan includes up to 20 users and gives the customer a toll free or local number with 100 toll-free minutes per month. They also get voicemail-to-text, which is standard for all plans. On the other, more expensive end, you could get the Ultimate plan for $49.99, which includes everything offered in the previous three plans but also provides unlimited video conferencing up to 200 people per meeting and 10,000 toll-free minutes per month. Phone systems can be bought straight from RingCentral with prices ranging anywhere from about $90 to $400.
For those who are not willing to commit to RingCentral right away, there is a 15-day)free trial available that allows you to try up to two desktop phones and five users. The trial allows each user to use 50 minutes of domestic calls. Only new subscribers can take advantage of the free trial.
Nextiva
Next up is Nextiva, one of the best rated cloud-based business phone providers of 2019. Clients love the text messaging, unlimited calling, and voicemail-to-email features they offer. Nextiva designed pricing plans that offer exceptional flexibility, allowing companies of all sizes to choose what works best for them. Customers are free to pay on a contract basis or pay from month to month but the monthly payment plan is slightly costlier.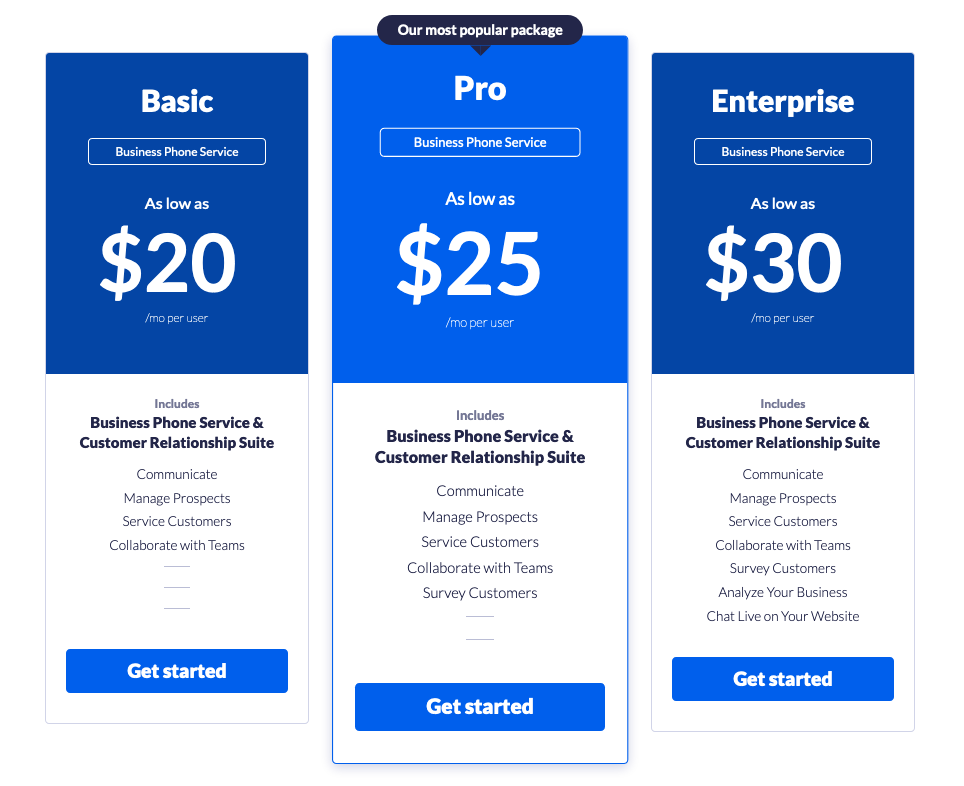 Nextiva provides three pricing plans: Basic, Pro, and Enterprise, with more features being added on as the price increases. The Basic plan can start as low as $20 per month/user, $25 per month/user for Pro, and $35 per month/user for Enterprise. Unlimited calling, SMS messages, and Internet faxing are provided in the Basic plan, among other benefits. Everything in the Basic plan is included in the more advanced plans but with additional perks. Some of these extra benefits are the professionally recorded greeting and unlimited conference calls in the Pro plan or the website live chat in the Enterprise plan. Consumers can buy specific additional features should they want more than what is provided in the plans. Nextiva also sells and leases VoIP phones, making the transition to their company extremely easy.

If you're unsure of whether Nextiva is the right fit for you, they also have a 30-day free trial. Their free trial gives you the perfect opportunity to test out their services and see what might work for you and your company. There are limitations on using the free trial so feel free to look them up and make sure you're okay with the rules.
Vonage
Finishing off this list is Vonage, a cloud-based VoIP provider known for providing high quality, cost-effective VoIP phone solutions for residential and business customers. Thousands of companies switch to Vonage each month and for good reason. They have exceptional network quality, powerful partnerships, industry recognition, and more. Their pricing is great for small and large businesses alike and will help to drastically cut down costs.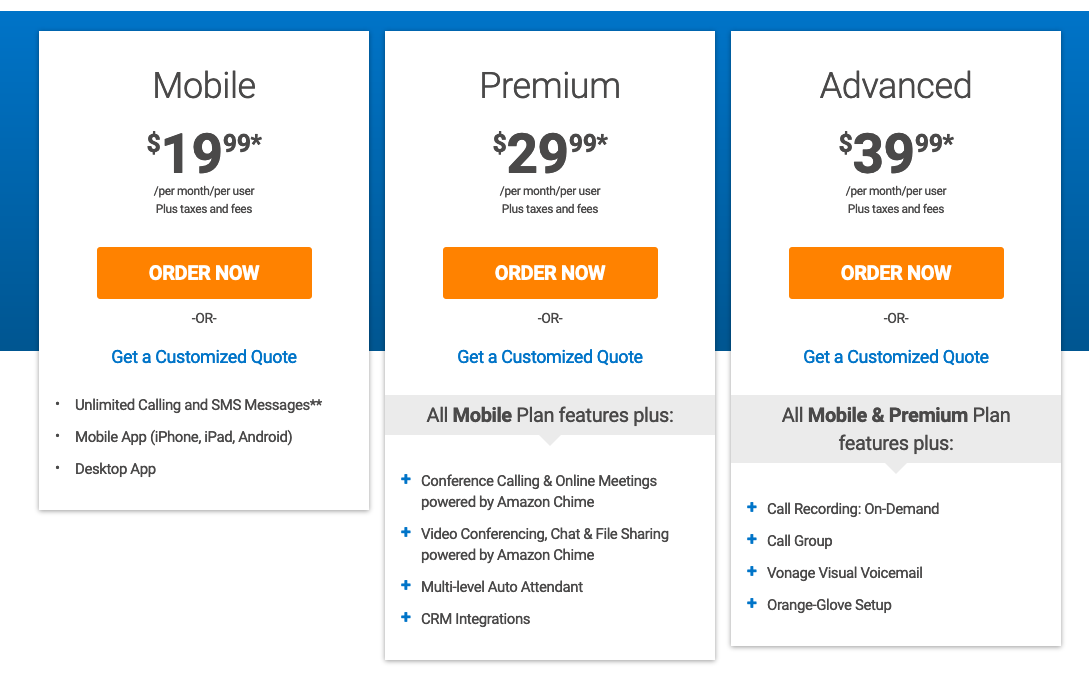 Similar to other VoIP providers, Vonage also offers three pricing plans: Mobile, Premium, and Advanced. Excluding taxes and fees, the current prices are $19.99 per month per for Mobile, $29.99 for Premium, $39.99 for Advanced. Unlimited calling and SMS messages are staples of each plan, along with the mobile app, desktop app, and VonageFlow (team messaging). The Mobile plan stops at just those features but the Premium and Advanced have additional benefits such as video conferencing up to 100 people and CRM integrations. Clients are free to incorporate other add-ons into their packages such as call recording or a virtual receptionist. You can also buy hardware such as desktop phones or use an existing phone if it is compatible with their software.
Customers can try out a 14-day free trial for any of the three packages if they want to see how Vonage works before fully committing. If you are dissatisfied for any reason during the two-week period, you can call in to cancel at any time at no charge. Again, it is important to look up the rules to make sure how to take advantage of the free trial.
Comparison
Here is a table summarizing important details about the providers highlighted in this article:


RingCentral

Nextiva

Vonage


Pricing (for most popoular package):


$25/month per user
PRO


$34.99/month per user
PREMIUM


$29.99/month per user
PREMIUM





Free Trial:


15-day trial


30-day trial


14-day trial


Users:


Not specified

Standout Features:


Free setup, money-back guarantee
Group calling
Call queue
Call recording
2,500 toll-free minutes/month


Auto attendant
Call recording
HD voice
Mobile app
Professionally recorded greeting
Customer surveys


Mobile app
Customizable conference groups
Call recording
Voicemail transcription

Making a Decision
When it comes to making a decision, the consumer must consider cost, ease of use, reliability of the provider, customer support quality, overall features and benefits, among other details. It's important to weigh the various features offered and see if they align with the features you are seeking to have for your company. Once you've figured all of this out, you're on your way to saving yourself or your business some money.